SALTED CARAMEL LATTE IS BACK AT BIGGBY® COFFEE AND IT BROUGHT FRIENDS!
---
Salted Butterscotch and Golden Honey Oat Milk Lattes introduced at the Start of the New Year
East Lansing, MI, January 13, 2020–We blinked and all the sudden it's 2020. What better way to start the new year than with a Salted Caramel Latte from BIGGBY® COFFEE? That's right, the fan favorite is back! And it brought a few new friends! Available hot, iced, and frozen through the end of February, these flavors will kickstart your day, week, or even your year in the most tasty way!
Back by popular demand, the Salted Caramel Latte is back on the BIGGBY® COFFEE menu for a limited time. The classic caramel flavor with a salty twist has become a tried, true, and favorite flavor of BIGGBY® COFFEE fanatics across the nation. With BIGGBY® COFFEE's famous espresso, smooth milk, and unique salted caramel flavor, the Salted Caramel Latte is the perfect blend of salty and sweet and will curb either craving! Topped with whipped cream and a salty caramel garnish, this latte is the perfect treat this winter.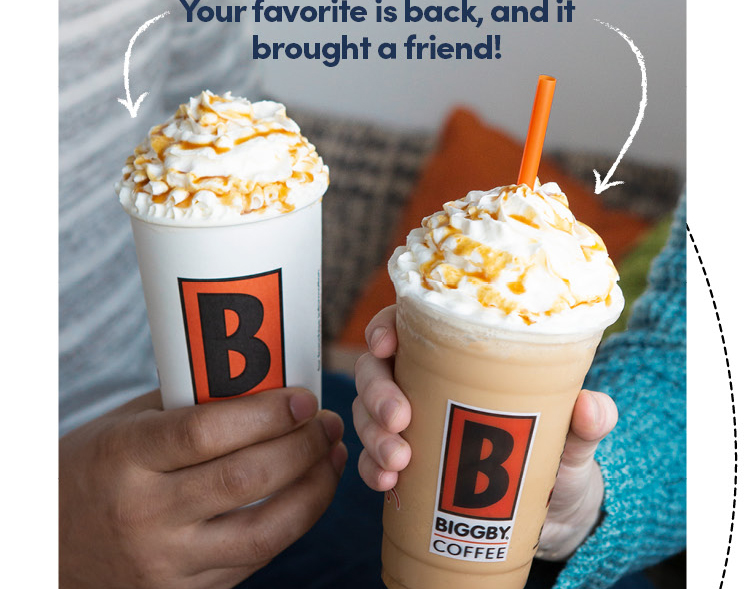 If you're a fan of the Salted Caramel Latte, try something new this new year with the Salted Butterscotch Latte. With a classic butterscotch flavor, the salty flavor adds the perfect compliment to the sweet and smooth butterscotch flavor. Again, topped with whipped cream and a salty butterscotch flavor, this new latte is perfect for the new you this year!
Not a salty fan? We have you covered! We're excited to announce the arrival of the Golden Honey Oat Milk Latte to our menu, beginning January 1. This latte features turmeric, honey, and cinnamon, all swirled with delicious oat milk. This sweet latte has the unique flavors of turmeric and oat milk, with the classic combination of honey and cinnamon. It's a latte you want to try at least once—or twice, no one's judging!
Pair any of these delicious lattes with our new Cinnamon Crumble Cake for the ultimate treat. This decadent coffee cake is swirled with brown sugar and cinnamon and is topped with a sweet apricot glaze. Paired with BIGGBY® COFFEE's world's-best coffee and unintimidating flavors, the Cinnamon Crumble Cake is delicious no matter where you're at in your day.
What better way to start a new year and a new you than with new BIGGBY® COFFEE flavors? Stop in to your BIGGBY® COFFEE and try our new flavors today! Be sure to tag #BIGGBYCOFFEE and let us know what your favorites are!
####
BIGGBY® COFFEE, East Lansing, Mich.-based, was started with a single store on March 15, 1995. One year later, and on the cusp of opening a second location, Bob Fish and Michael McFall, on a handshake and $4,000, decided to franchise the concept. BIGGBY® COFFEE's cultural values of Make Friends, Have Fun, B Yourself, and Share Great Coffee help coffee-lovers and the coffee-curious alike benefit from a less pretentious and fun approach to the standard gourmet cafe paradigm. Besides connoisseur-worthy drinks with pronounceable names like Teddy Bear® and Caramel Marvel®, BIGGBY® baristas provide a unique experience focused on brightening their customers' day and supporting them in building a life they love. The "Big 'B'" on the orange background caught on, and today BIGGBY® COFFEE has more than 230 cafes across many states including Michigan, Ohio, Indiana, Illinois, South Carolina, Wisconsin, Kentucky, and Florida. In 2018, BIGGBY® launched an Area Representative Program and currently has 8 Area Representatives in 6 states.
For franchise opportunities with BIGGBY® COFFEE, contact franchiseinfo@biggby.com.
If you would like more information about this topic, please contact Nicholle Robertson at 517-294-3487 or email at press@biggby.com.